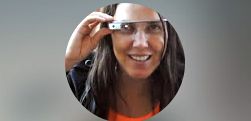 A California tech tester who was stopped and cited for using Google Glass has beaten the rap.
A San Diego court officer said he found no evidence that Cecilia Abadie was using the new visual technology just before she was stopped for speeding.
The ticket was for using a "monitor" while driving, not for a violation of cell phone or texting laws. The court commissioner did say "falls within the purview and intent" of state law against using a video monitor, however.
California permits hands-free cell phone use and texting for adult drivers.
Abadie wore the glasses while talking with reporters after the hearing, and broadcast the results. She also posted the news on her Google Plus page (top image).
"As a hands-free device it is safer than a cell phone," said Abadie, an independent tech developer participating in the Google "Explorer" program for testing the wearable computer technology.
In addition to the Google Glass traffic ticket, the court also dismissed the October speeding citation because Abadie's lawyer called for an expert to appear to certify the radar used to track her vehicle.
A handful of bills have been filed with state legislatures seeking to outlaw the glasses, which are not yet on sale to the public.
Hyundai just announced a 2015 luxury sedan that integrates Google Glass for activities such as starting the vehicle and unlocking the doors. The vehicle also supports Apple's Siri "Eyes Free" technology, the automaker said at the Consumer Electronics Show.