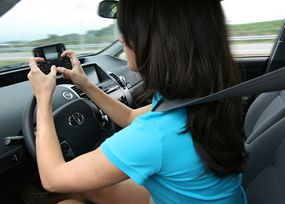 Newly licensed teens start out paying close attention to the road but quickly turn into distracted drivers, according to a new study.
Multitasking behaviors such as talking on cell phones and eating while behind the wheel peak about a year and a half after the teens begin to drive, the study by Virginia Tech Transportation Institute researchers suggested.
"Novice drivers are more likely to engage in high-risk secondary tasks more frequently over time as they became more comfortable with driving," said Charlie Klauer, group leader of teen risk at the institute. "This appears to be an important contributing factor to crashes or near-crashes."
In the study, "Distracted Driving and Risk of Crashes Among Novice and Experienced Drivers," Klauer and her research team compared the results of an existing 100-car study with drivers between 18 and 72 years of age (with an average of 20 years' experience) and a new 18-month study of 42 teens who had driver's licenses for less than three weeks when research began.
Participants from both studies were tracked by Virginia Tech driving-performance systems, including four in-vehicle cameras.
Researchers looked for distracting secondary tasks before or during an instance of a crash or near-crash. Likely dangerous distractions for the teens included handling and operating cell phones, eating, reaching away from the steering wheel, and looking at something alongside the road.
The team found that the novice drivers became engaged in multitasking at about the same rate as the experienced drivers between months 7 and 15 of their initial licensing. "They were engaged in non-driving tasks more often than experienced drivers during months 16 through 18 — a two-fold increase in risky distractions during the last three months of the study," researchers said.
One interesting finding was that talking on a cell phone did not appear to increase crash risks among either the veteran or inexperienced drivers. Dialing a mobile phone did increase the risk, however. (Researchers noted that dialing the phone often preceded the talking.)
The study, published in the New England Journal of Medicine, was billed as the "first report of its kind to objectively assess the degree to which engagement in tasks other than driving contributes to novice drivers' crashes and near-crashes, and to compare the results to the impact of such distractions on more veteran drivers."
The researchers backed state graduated driver's license programs, which limit activities by young drivers: (Our finding) provides support for policies limiting the performance of these (distracting) tasks through graduated licensing requirements or other policy initiatives."