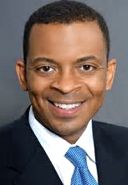 New federal DOT chief Anthony Foxx has made his first move in the war on distracted driving.
The U.S. secretary of Transportation has been largely silent on the issue since his confirmation hearings, a stark contrast to his predecessor, who was for many the face of the national effort against distracted driving.
Foxx met Dec. 9 with an unspecified group of "leaders from nearly two dozen organizations" seeking to end distracted driving. The group apparently included representatives of automakers, wireless providers, safety groups and law enforcement agencies.
"It was the first of what I hope will be many discussions on how we can make more progress in this effort, and I thought it made sense to start with the folks who have partnered with us from the beginning," Foxx wrote on his official DOT blog.
Among the safety advocates was Jennifer Smith, an ally of ex-DOT chief Ray LaHood. Smith tweeted that it was "a great meeting" with Foxx and "distracted driving partners."
The blog post appeared to be Foxx's first on the issue, although the DOT blog did last week link to a Huffington Post column by Foxx that that included a heads-up on the meeting.
Coincidentally, Hands Free Info asked the DOT last week why Foxx hadn't been heard from on the distracted driving issue and was promised a response. Foxx took over at DOT five months ago.
"Just as distracted driving was a priority under Secretary LaHood, it will receive my full efforts, as well," Foxx's post-meeting blog post said. Foxx said during his Senate confirmation hearing that the distracted driving campaign was in the DOT's "DNA."
The Dec. 9 post touched on one of the areas for which LaHood was criticized: Failing to rein in the "infotainment" offerings of automakers' connected dashboards:
"Make no mistake, at DOT, we welcome breakthrough advancements in our vehicles," Foxx wrote. "… But we also want to ensure they don't lead to unwelcome new distractions. And, on that score, NHTSA has already taken a lead role in offering guidance to the auto industry. There are more pilot programs in the works now and more results being analyzed. We're also working on the next round of distraction guidelines."
Foxx cited the challenge of "moving public opinion and public policy, changing driver behavior, and safeguarding technology."
LaHood, meanwhile, participated in the same Huffington Post series on distracted driving. In a Q&A interview of Nov. 11, he touched on the issue of a federal distracted driving law, infotainment auto systems, and Google Glass.
Federal laws: "This has to be one of the No. 1 safety items on (lawmakers') agendas if they really want to save lives and make roadways safer," LaHood said.
Dashboard systems: "There does need to be regulation, and it needs to be done in cooperation with the car companies."
Google Glass: "It's another distraction that people should not be involved with."
LaHood, who during his term wouldn't go so far as to back a total cell phone ban for drivers, seems to have changed his tune.
"Devices need to be disabled while the driver is driving the car," he said. When asked if that meant drivers' cell phones should be bricked, he replied: "Absolutely."
Meanwhile, almost all of LaHood's blog posts about distracted driving have been removed from the DOT blog, "Fast Lane," as part of the change in administration.
Author Glenn Abel on Google+