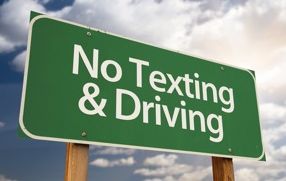 California teens who use voice-activated technology to get around the state's ban on texting & driving are likely to see that loophole closed.
If signed by the governor, a plan OK'd by the Legislature will prohibit use of voice-operated, hands-free texting technology by drivers under age 18.
The ban would include texting via "infotainment" dashboards and voice-responsive apps such as the widely used Siri on iPhones.
Teens already are barred from using cell phones — whether held or hands-free — but a 2012 law appears to give them permission to use the hands-free texting technologies such as those incorporated in Internet-connected vehicle dashboards.
The teen-texting Senate Bill 194 comes from freshman Sen. Cathleen Galgiani, D-Stockton. The measure sailed through the full Senate with a vote of 35-3 on April 22 and then cleared the Assembly 70-4 on Sept. 3. It will arrive on the governor's desk along with a surge of last-season acts.
Gov. Jerry Brown's backing is likely but not a given. Last year, he approved the so-called "freedom to communicate" act — allowing the no-touch texting — but vetoed for a second time a plan to raise distracted driving fines.
The Alliance of Automobile Manufacturers pushed for the California hands-free texting measure. Automakers, tech companies such as smartphone makers, and the entrepreneurs behind various hands-free devices have been seeking changes in laws and legislation that permit voice-controlled hands-free operation of electronic systems.
The automakers have invested heavily in bringing wireless communications and entertainment systems in their vehicles.
The broadly worded hands-free texting measure — AB 1536 — didn't exclude young drivers from texting.
The Assembly considered a 2013 plan (AB 313) to override the 2012 law permitting hands-free texting, but it was rejected by the Transportation Committee. It was then revived, but eventually was abandoned by its author.
Hands-free texting was not a widespread feature when California banned texting and driving in 2007.
"Distractions from using a voice-operated device endanger not only the driver but other motorists as well as pedestrians," Galgiani said.
Her Senate bill was supported by the California Association of Highway Patrolmen and the Automobile Club of Southern California.
Read more about California distracted driving laws.