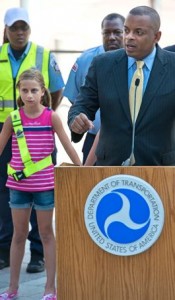 Saying distracted walking is "a real problem affecting our country," new DOT chief Anthony Foxx helped kicked off a program focusing on the dangers to pedestrians.
"Everyone in America is a pedestrian," said Foxx, paraphrasing the new DOT campaign's slogan.

The U.S. Department of Transportation has earmarked $2 million in grants for use in pedestrian safety education. Cities with high numbers of pedestrian deaths — such as New York, Los Angeles and Chicago — could apply for the grants this month. (The DOT calls them "pedestrian focus cities.")
More than 4,400 pedestrians lost their lives in 2011, up 8 percent from 2009, the DOT said. The increase set off alarm bells at the DOT, apparently.
A distracted walking study released in June found that "60 percent of pedestrians walk while texting, emailing, talking on the phone, or listening to music."
Without citing figures, the DOT chief pointed the finger at the wireless communications devices such as smartphones that are behind the national debate over distracted driving.
"A lot of times people will be wearing their earphones and headphones and you can get an accident that way," Foxx said at an Aug. 5 event, held for emphasis at a hectic intersection in Washington, D.C.
"We've got to encourage people to have an awareness that this problem is a real problem effecting our country and that their behaviors as they are driving or walking can impact our ability to keep people safe," Foxx said.
The DOT's National Highway Traffic Safety Administration unveiled a web site section,
Everyone Is a Pedestrian." It includes "safe walking tips," research and other resources.
Pedestrian deaths accounted for 14 percent of the total traffic fatalities in 2011, the DOT reported.
"Mobile-phone related injuries among pedestrians (paralleled or exceeded) the increase in injuries for (distracted) drivers," Ohio safety researchers found this month in a study of emergency room cases from 2004-2010.
In New York City, where about 57 percent of traffic fatalities involve pedestrians, the traffic commissioner suspects distracted walking contributed to a recent increase in metro deaths: "I don't think that the iPhone has invented an app yet that will ping you when you hit a crosswalk," said Janette Sadik-Khan.
Foxx said former DOT chief Ray LaHood "did such a good job drawing our attention to distracted driving, which can have an impact on pedestrian safety, but we also have to attune our own pedestrians to making sure they're paying attention."
Foxx took office in early July. The pedestrian campaign is the first initiative on his watch to touch on the dangers of distraction. During confirmation hearings, the former mayor of Charlotte, N.C., said the battle against distracted driving was in the "DOT's DNA."
The August study of distracted walking injuries in hospitals found that pedestrian injuries were highest for males and for people under 31 years old. "Using a mobile phone while walking puts pedestrians at risk of accident, injury or death," the researchers concluded.