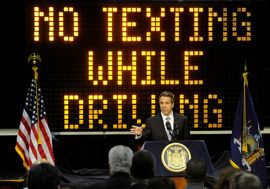 New York's fines for electronic distracted driving have increased, as part of the state's multi-pronged attack on drivers who text message and use handheld cell phones. Fines max out at $400 for serial offenders.
The tougher fines were included in the 2013-14 state budget. New York's governor said the move would address "a frightening epidemic on our roadways," calling the increase in traffic fines "an important tool to punish and prevent this reckless behavior."
They are in addition to the late May hike in DMV points against violators' licenses to five. Points can be reflected in insurance premiums.
New fines for distracted driving in New York state:
First offense: Minimum fine $150 with maximum of $150.
Second offense: $50 to $150.
Third offense and subsequent offenses within a year and a half: $50 to $400.
"Combined with stronger penalties on your license and increased enforcement, these increased fines will send a tough message to all drivers that distracted driving is a serious problem with serious consequences," said Gov. Andrew Cuomo, who increased the DMV points via executive order.
In addition, Cuomo pushed through the Legislature a law that provides for the suspension and revocation of driver's licenses of novice drivers who text message while behind the wheel. Young drivers are considered the most likely to text & drive. Under the law, young drivers who illegally text message will be hit with the same penalties they now face for reckless driving.
Neighboring New Jersey upped its distracted driving fines earlier this summer. The governor of Connecticut has been sent legislation that would hike fines and use demerit points against violators.
New York law enforcement also is engaged in a summerlong crackdown against distracted driving. As part of the effort, officers are using more "spotter" SUVs, with elevated seating that allows them to identify drivers who are using handheld devices. Over the long July 4 weekend, State Police wrote 486 tickets for texting and cell phone use. The governor's office said as much as $1 million was being spent on chasing distracted drivers.
Cuomo said in confirming the increased fines July 26: "Using a multi-pronged approach to combat this dangerous habit will make drivers think twice before using their cellphones behind the wheel. As New York's law enforcement patrols our highways and roads this summer, we are warning drivers: don't text-and-drive or you will pay for it."
In 2011, Cuomo made texting & driving subject to primary enforcement and added a point against the license of offenders.
Read about: